Many Indians dream to become a crorepati. Few become one. But what's interesting is that many others have the ability to become a crorepati by simply following some investment discipline. We at RichVik Wealth, present a very simple way of achieving the same through our structured product – 'Century at 50'
THEME OF THE PRODUCT
'Century at 50' is a product from RichVik for the people who are in mid-30s to plan for a sum of atleast ₹100 Lacs making it a century for their investment goals. This product's objective would be to ensure that this person has a corpus at an age where he/she can still look forward to pursue his/her dreams or adventures. This is a product which ensures you give back up to yourself after all those years of hard work.
DESCRIPTION
An ideal investor for this product would be someone who is aged 35 and has got 15 years till the time he/she turns 50 which gives the person at least 10 years before he/she retires. We at RichVik have come up with a solution for such individuals who can now take out the amount of money they require for their daily needs and can keep the balance amount invested towards the 'Century' goal without any terms and restrictions. This will give them a freedom to live the last precious cycle of their work life on their own terms.
ANALOGY
Starting SIPs of an amount which, an individual is comfortable with. Here, we are assuming the monthly SIP to be ₹20,000 as we feel this is an amount which an individual at an age of 35 would be comfortable with.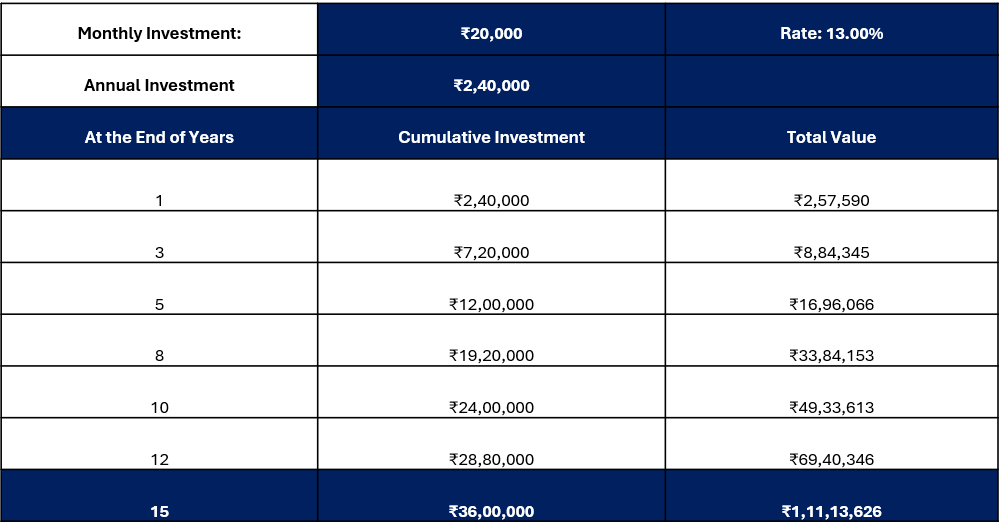 Note: The returns are annually compounded at a rate of 13%. However, equity mutual funds have potential to generate more than 13%. Many funds have given between 15-19% in a rolling period of 5-7 years.  Thus, we have taken 13% on a conservative basis.
The amount with you at 50 is ₹1.1 crores. Thus, even after paying a tax @10%, you have ₹1 crore. With this you can create a lifelong pension of ₹75,000 per month through a systematic withdrawal planning (SWP) method which can act as a support mechanism to take care of all the living expenses of post 50. We request readers to get in touch with us at Team RichVik for this planning and take the advantage which many of our clients have already enrolled for.
To understand more on the topic as well as to start investments please feel free to contact us:
Phone: +91-9324609115
E-mail: team@richvikwealth.in